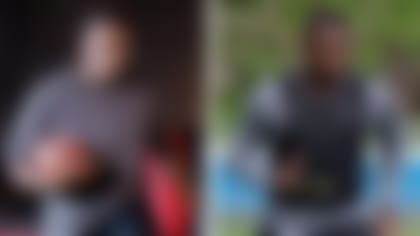 We caught up with Arizona Cardinals All-Pro cornerback and NFL Up! Ambassador Antonio Cromartie to pick his brain for some tips on how to keep your body right while training in blistering summer conditions. Check out what Cromartie had to say about staying cool and keeping your body in tip-top shape to come out of summer training better than ever before!
Q: How are you adjusting to training in the desert now that you're a member of the Arizona Cardinals?
A: I had to make a little bit of an adjustment from the standpoint of staying hydrated since it's so hot here. Mostly I've just been adjusting to the dry heat, getting acclimated with guys in the locker room and focusing on being a team player around the new guys.
Q: What is the most important thing to remember when training in the heat?
A: Honestly, the biggest thing is that you eat right and take in the right amount of fluids. You're burning so many calories and losing so many more fluids (in the heat) that you need to make sure you're replenishing those. I can't go out here like I did in New York and just go through practice drinking a little water. You need to stay hydrated to prevent yourself from getting sick or increasing your chance of injury.
Q: What has helped you get through training camps in Florida, where it's both hot and humid during the summer?
A: When you grow up in an area like this, or Florida, you understand how to deal with the heat a lot more, but when you come from a different area it's a different kind of heat, more humid, and when it's in 100 degrees it's really 110 or more with the index. Hydrating well is the most important thing, as well as stretching. You want to make sure your body can feel at its best every day instead of feeling like you're on the last leg in week. So be sure to not neglect or skip out on getting proper fluids and taking the full amount of time to stretch.
Q: What do you do diet-wise to help you train in the heat?
A: I avoid sweets and fast food, also trying to avoid fried food. I mean I have my cheat days on Friday or Saturday, allowing myself to eat whatever I want to. Otherwise, I eat proper and clean throughout the day. For me, during this time I'm trying to lose the weight that I need to, and then maintain that level once I get there. Just make sure you're doing the right things. If you're eating poorly and are dehydrated your body will be reacting slower and feeling worse while training.
Q: Do you have any other advice for high school or college students approaching training camps in the heat of summer?
A: The biggest thing for high school and college guys getting ready for camp in the next couple months is understanding yourself. Know your limits. When you're not feeling right be sure to talk to the coaches. Don't be the tough guy that isn't contributing to the team because you're not 100 percent. Be responsible enough to tell the coaches when you're not at the top of your game, otherwise you could end up hurting the team as much as you hurt yourself. This is especially important in heat like I have in Arizona.
Want to see other NFL player workouts and offseason training tips? Visit NFL Up! to learn the workout secrets of the NFL's best and get fit like your favorite player!