We caught up with New York Jets superstar cornerback and NFL Up! Ambassador Antonio Cromartie to pick his brain for a few more workout and fitness secrets. Need to increase your speed? Eat better pre- and post-workout meals? How about some agility training? Cromartie comes to the rescue
Q: What are some workouts/exercises you do daily to maintain your fitness level?
A: The main thing I try to do is my core workout. Everyday. It's the most important part of my workouts because it controls every part of your body. Whether my specific workout emphasizes my upper body or lower body, I always make sure to focus on my core as well. The most important section is the lower part of your abdomen. I do a lot of pilates, because that starts from the lower area and builds up. Pilates is actually very hard. A lot of people think it's easy but it's not. By targeting the lower abdomen, I tighten up everything from the inside out. Those muscles are crucial as they help with your hips for movement, flexibility, power and speed.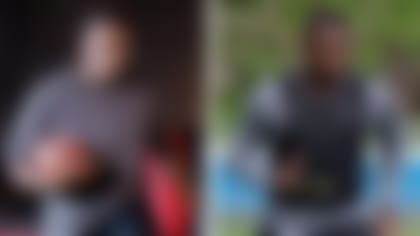 Q: How do you maintain or increase your speed?
A: The biggest thing for me is doing track workouts. I use resistance bands a lot, running against resistance is a great way to train your muscles to help you run faster. Doing pool workouts is excellent as well. I'll run in the water, tread water, do the stairs in the pool, and so on. For those workouts, you have to pick up your knees when you're in water, which translates to running on the field. Those are little things help me transition faster on Sundays. And of course, understanding how to run is key. If you understand how to use proper form when you run, you can be that much faster.
Q: What are your favorite drills to improve agility?
A: Ladders and cone drills, definitely. Boxing is good for agility training as well, as it requires great footwork and technique. When I'm boxing, and training to box, I do a lot of jumping rope as well. Agility is based a lot in your footwork and hips. All of these drills that we do are related to footwork and hip movement, and I try focus on those the most to improve my agility on the field.
Q: What are your pre- and post-workout foods or drinks? Anything you rely on to stay fueled?
A: I don't even do protein shakes. Biggest thing for me is eating before and getting a lot of the right kind of carbs and protein before and after. I'm a healthy eater. If I am working out in the morning I'll typically have four eggs over medium with a chicken breast, oatmeal and a bagel. After the workout I put an emphasis on refueling myself because I put my muscles through a lot of wear and tear. Those meals feature a lot more chicken and some pasta. Again, taking in good carbs and protein helps refuel and rebuild your muscles. But, you can treat yourself to bad carbs once a week at the end of a workout. I do that at least once a week -- not every day though. It helps to give your body a bit of shock and reward after constantly eating healthy.
Q: Are there any workouts/drills you did when you were younger that really paid off during your career?
A: My high school was actually run like a college; we had real good offseason workouts. We'd be running stadiums with a 20-pound vest on. So I carried that into college, running stadiums on my own at Florida State. My time in high school taught me the importance of hard work, and that nothing comes easy. Even if you have athletic ability and God-given talent, you can't let it go to waste because you think you're better than everyone else. It takes hard work to get yourself to this level, and to stay at this level, competing every week. I learned from high school on you can't take days off. It paid off for me both from a fitness and athletic standpoint.
A: I played with Kamerion at Florida State. He's always been a hard-worker. Kamerion's a hard-nosed guy that's going to attack everything head on and outwork the man next to him. He's very athletic for his size, he can move, has good hips and good feet, and a lot of that came through his work ethic on the field and in the gym. He carried that through college and into the pros. That's one of the reasons he is where he is today.
Want to see other NFL player workouts? Visit NFL Up! to view current workouts, and vote to unlock the workout secrets of the NFL's best!