Looking for faster feet? We caught up with New York Jets All-Pro cornerback and NFL Up! Ambassador Antonio Cromartie to talk all things footwork. Take your game to the next level with these footwork tips and drills!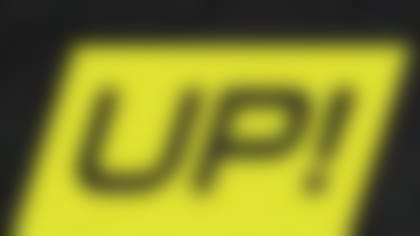 WHERE IS FOOTWORK THE MOST IMPORTANT FOR A CORNERBACK?
Everywhere. Every part of my job relies on footwork. If you're trying to mimic a receiver's movement at the line, or when he's breaking off his route you need your feet chopping off at the same time as his. I always tell people the most important parts of your game are your feet and your eyes. You need to be able to find the receiver, look at the receiver and stay in front of him with your feet.
HOW DID YOU DEVELOP YOUR FOOTWORK TO AN ALL-PRO LEVEL?
I've done a lot of different footwork drills throughout my career. Ladders, stadiums and steps are all good options, as is anything that gets your feet moving as quickly as possible. Jump rope is also great for your feet because you need to be moving a lot. Of course, on-field drills are extremely beneficial as well. If you don't have access to a field or enough people for drills, guarding a guy in basketball follows the same principles as covering a receiver in football. You use your feet and eyes, and even your hands a bit. Cutting a guy off from attacking the basket uses the same skills as covering a guy. It's all about moving your feet, keeping your feet underneath you and keeping the guy in front of you. If you do that in football, the receiver can't get away from you.
GIVE US AN EXAMPLE OF WHERE YOUR FOOTWORK HELPED MAKE A PLAY?
Footwork is crucial in covering against double moves. Being able to start and restart your feet is critical to stay with the receiver. You're following him with your feet and eyes and when he makes that other move, if your feet are off or out of place, you're done.
Playing the Cleveland Browns this season, Greg Little tried to run a curl and go on me and beat me to the corner of the end zone. When faced with a move like this, you have to try to break their movement down, and accelerate with your feet so they can't make the play over the top. I ended up breaking up the play because I got my feet in and out of the ground quick enough and stayed with Greg before the ball got there.
ARE THERE ANY IMPORTANT MUSCLES YOUNG ATHLETES SHOULD STRENGTHEN FOR FOOTWORK? (CALF, ANKLE, QUAD…)
It's important to understand your fast twitch muscles and improve those. Your quads will help your explosiveness, but by focusing on drills like ladders and jump rope it will train those fast twitch muscles which allow you to react quicker and more effectively with your feet.
Want to see other NFL player workouts and offseason training tips? Visit NFL Up! to learn the workout secrets of the NFL's best and get fit like your favorite player!