We caught up with New York Jets all-pro cornerback and NFL Up! Ambassador Antonio Cromartie to pick his brain for some training tips on improving your ball skills. Looking to get more interceptions or lock down opposing receivers? Or are you an aspiring receiver looking to get better at jump balls? Follow these tips from Antonio to take your game to the next level!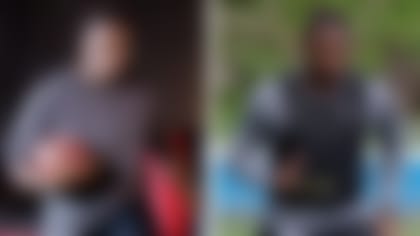 Q: Can you explain how you track down a ball in the air to either defend it or intercept it?
A: The two biggest things to understand when you're tracking the ball as a defensive back is your position on the field and understanding that once the ball is in the air you become the receiver. Too many young defensive backs worry about the receiver catching it or what the receiver is doing instead of focusing on what they should be doing. Just go out and make the play yourself, don't worry about him. Know where the ball is and attack it. Put yourself in position to bat it or catch it and make the play.
Q: How is this different in man coverage versus zone coverage?
A: This practice isn't much different whether you're in zone or man coverage. In zone, you can see the quarterback a lot more because you're playing off of your receiver. Man 2 (Cover 2 Man) is harder because you're in press coverage, which makes it more difficult to track the ball, especially on shorter routes. You need to make sure you're going exactly where your guy goes in press coverage. In zone, you can read the quarterback and his eyes a bit to determine where he's going. You don't get the opportunity in press coverage to read the quarterback, so it's all on you.
Q: What are some tips for recognizing routes and getting into better position?
A: Figure out where you are on the field. If you're past 15 or so yards, the ball is going down the field. When you're in great position, you're able to control the receiver. You can turn around, find the ball, and make a play. A lot of the routes cornerbacks have to defend are quick underneath routes, so it's tougher to get a chance to track the ball on those. You need to understand the receiver and the offense you're facing that week. Know his tendencies and what routes he runs out of what formations. This will help you understand the concepts of what the receiver is going to give you on a given play, and make you that much better defending him.
Q: What did you do to acquire your ball skills in coverage, and what can others do to improve their skills?
A: I play a lot of basketball and racquetball, as they're both great for your feet and hand eye coordination. Other drills can help as well, such as simply catching a football in distant positions from different heights and velocities. We used a racquetball and threw it off the wall as hard as we could, then tracked it down with our eyes and feet. Nike has new balls that bounce all sorts of different directions and really help you learn to track the ball and move your feet to react quickly.
Q: What are some tips for young players to learn how to catch the ball at it's highest point?
A: Honestly, it's just like you're going up for a rebound. You need to just understand where the ball is and how to use your body. Timing your jump the right way is crucial. Learn how to use your body to shield the receiver and box him out, again, much like a rebound. Trying to beat a receiver to a ball can be a lot like you're posting him up. Rebounding is great practice because you can employ those skills -- body position, leverage, timing -- a lot more than you might in a football game or practice if the quarterback doesn't look your way.
Q: Do you have a favorite interception from your career?
A: My all-time favorite interception was picking off Peyton Manning back in 2007, the one-hander down the sideline.
Want to see other NFL player workouts and offseason training tips? Visit NFL Up! to learn the workout secrets of the NFL's best and get fit like your favorite player!