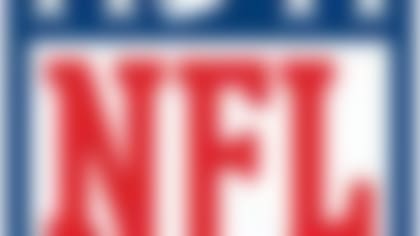 How would your team's prospects look if the season ended today? See where each team stands in the playoff picture midway through the season. **More ...**
It's a bittersweet day for football fans. For many, this was the last day they'll get to watch their team before the long, dark days of the offseason set in. For others, this day set in stone their team's playoff future. Week 17 is in the books, and there was no shortage of awesome, weird and magical moments in Sunday's games. For instance, in case you hadn't heard, Aaron Rodgers returned to the starting lineup for the Green Bay Packers and did, well, just watch the video above if you missed it earlier Sunday. As for the rest of Week 17's wackiness, let's take a look.
Talk about going for broke. In overtime, with the score tied 24-24, the Chargers went for it on fourth-and-2 by calling a fake punt run -- in their own territory! Even my friend who refuses to punt in "Madden NFL 25" wouldn't have gone with that play call. Nevertheless, the Chargers converted the crucial first down and went on to win 27-24 to punch their ticket to the playoffs. And we should all be grateful this gutsy play call worked. It gives us at least one more week of potentially awesome Philip Rivers GIFs.
An interception within an interception within an interception.
Andy Dalton and Joe Flacco combined for seven interceptions in Cincinnati on Sunday, including a game-clinching pick six thrown by Flacco. However, as much as these two tried to take the interception crown, it was still firmly clutched by Eli Manning. Manning's season came to an end early on Sunday when he suffered a sprained ankle, but not before he completed his last pass of the season ... to the other team. Manning finished the season with a league-high 27 interceptions. Ouch. But not even those statistics could dampen the spirits of these true blue Giants fans.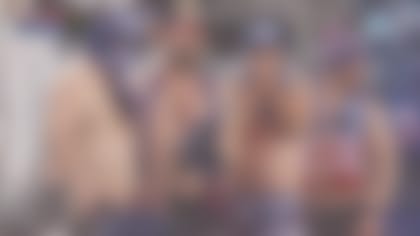 Big boys score touchdowns, too
We could have the next William "The Refrigerator" Perry on our hands. During the Jets' 20-7 win over the Dolphins, rookie defensive tackle Sheldon Richardson scored his second rushing touchdown of the season. He tied The Fridge for the most touchdowns scored in a seaosn by a defensive lineman, and fell just one short of tying another Richardson in rushing scores for 2013. That'd be Trent Richardson, the No. 3 overall pick in the 2012 NFL Draft, who must be thanking his lucky stars the Colts called his number near the goal line Sunday so people couldn't forever remind him that a defensive tackle scored as many rushing touchdowns as he did in 2013.
Haunting your dreams in 2014 and beyond...
If the Dolphins were hoping this mascot would spur their players to victory and a postseason berth, they were sorely mistaken.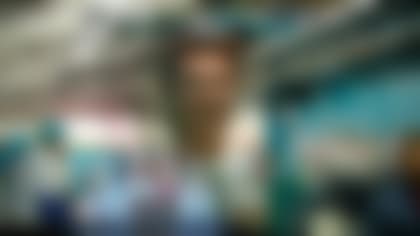 It ain't over until the zebra whistles
This play is a prime example of why "Play to the whistle!" is a common refrain for Pop Warner coaches across America. Kudos to Jarrett Boykin for making his Pop Warner (and Packers) coaches proud by racing over and scooping up the loose football before running into the end zone for a touchdown. Most players were baffled by what Boykin was doing, until the refs raised their arms for a touchdown. After an official review, it was concluded that this was indeed the most unfortunate sack of Julius Peppers' illustrious career.
What are you doing? Your fantasy season should have ended in Week 16. But instead, your commissioner decided it'd be wise to play one more week, and if you had been leaning on Jamaal Charles, Calvin Johnson or Adrian Peterson your fantasy hopes and dreams likely came to a screeching halt as they were all inactive on Sunday. And this was a Week 17 in which 13 of the 16 games had playoff implications, so fewer starters were rested than usual, yet more than enough fantasy seasons were likely spoiled. Have this be a lesson to you and your league, and stop playing fantasy football in Week 17!