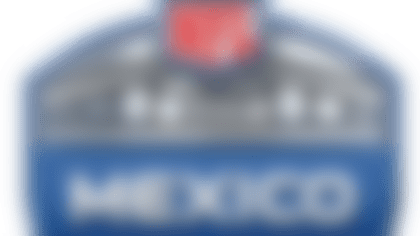 ¡Llega temprano al partido para disfrutar de la Fan Fiesta el Día de Juego, abierto de 11:30 a 2:30 PM a TODOS los aficionados con boleto para el partido! ¡La Fan Fiesta el Día de Juego contará con el Trofeo Vince Lombardi, juegos interactivos y actividades por parte de los patrocinadores, mercancía de la NFL, photo opportunities, food trucks, música en vivo y mucho más!
Banorte presenta un juego a la altura del México que viene. Vive con pasión y color, las dinámicas que Banorte tiene preparadas para ti. Lanza un pase completo, desafíate en el Yarda Fan y captura tu momento NFL. #MexicanosFuertes
Recuerda tu viaje a la Ciudad de México tomándote una foto con las famosas letras "CDMX"
Los marcos gigantes ofrecen a los fans divertidas foto opportunities que capturan recuerdos con amigos y familia. Ubicadas en las Plazas Oriente y Poniente.
¡Escucha al favorito de la Ciudad de México, Banda Bronson, tocando en vivo en la Plaza Oriente!
Tómate una foto con el trofeo más prestigioso en el deporte, el trofeo Vince Lombardi
Dos celebridades intentarán meter goles de campo usando sus coches y un balón gigante, pero para que puedan tirar el público debe ayudarles. ¡Ven a tirar goles de campo desde la App en el stand y apoya a tu favorito!
¡Marriott Rewards te invita a mostrar tus habilidades para cachar con una foto opportunity de 180 grados y participar en el sorteo de Hoteles Courtyard para tener la oportunidad de ganar entradas para el Super Bowl LII!Marriott Rewards invites you to show off your catching skills with a 180-degree photo opp and enter the Courtyard Hotels sweepstakes for a chance to win Super Bowl LII tickets!
Los usuarios movistar o que tenga la app NFL instalada vivirán una experiencia única donde podrán a prueba sus habilidades por un premio. Adicional se les hará una transformación de imagen como un verdadero fan de la NFL.
Écha un vistazo al detrás de cámaras del NFL Game Pass. ¡Tu oportunidad de usar las pantallas verdes y estar dentro del partido! No pierdas la oportunidad de experimentar el juego más nuevo de Madden NFL en las cabinas disponibles.
La mejor experiencia de juego de la NFL está en vivo con las foto opportunities dentro del partido.
Explora todo lo que México te ofrece como lugar para vacacionar con foto oppotunities interactivas. Ubicadas en la Plaza Poniente.
¡Date una vuelta por los deliciosos puestos de comida del Fan Fiesta, ofrecen una gran variedad de opciones auténticas que celebran la cultura de México así como los favoritos del American tailgate!
¡Visita la Tienda Nike para tener las prendas de los equipos de la NFL!
Recoge la mercancía que ordenaste previamente en nuestra ubicación Click and Collect en la Plaza Sur.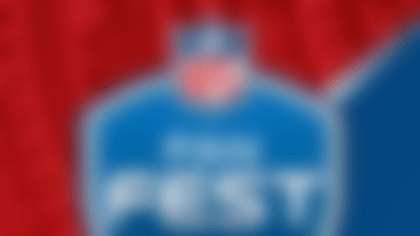 Para tener acceso exclusivo a todos los eventos en México para aficionados de la NFL, regístrate en Fan Mobile Pass al visitar NFL.com/Mexico/FanMobilePass. Descarga la aplicación NFL México - Fan Mobile Pass desde la app store.
Etiqueta tus fotos y posts con #NFLMexico
Sigue a @NFLMX en Twitter e Instagram y a la NFL en Facebook.