The Associated Press
Welcome back to the Around The League End Around, a weekly look back at the world of the NFL. Dan Hanzus serves as your guide.
It was a good week for ...
1. Brian Hoyer: He might actually land a starting gig in Cleveland. How many people were predicting that back in May? Somebody check on Phil.
2. Jamaal Charles: The Chiefs were smart enough not to get cute with their franchise star. Kansas City might be a 4-12 team with Charles on the couch.
3. Kyle Orton: We may have underestimated the cunning of the great Neckbeard®. He gets Jerrah's $3 million and -- most likely -- a quick end to "retirement."
It was a bad week for ...
1. Zach Mettenberger: The Titans rookie quarterback was sucker-punched at Loser's Most Wanted Bar & Grill in Nashville. Nothing good ever goes down at a place called Loser's.
2. Justin Blackmon: It's all slipping away.
3. Pete Carroll & John Schneider: The Seahawks have a Beast Mode problem. Marshawn Lynch has essentially put the velvet ropes around himself.
Sammy Watkins: Potentially productive at this level?
Yes.
Jay Be Rollin' and Trollin'
#Bears Jay Cutler arrives "Dad style" to camp & says "it's not a mini van. It's a conversion van" pic.twitter.com/yRHGrH4Pzt

— Megan Mawicke (@MeganMawicke) July 23, 2014
The only thing missing is the unicorn painted on the side. Of course, Jay Cutler cares not for your opinions of him or his creepy white conversion van. When you're the Billy Zabka of the NFL, you arrive to camp any damn way you want.
Now that's a head shot
Steelers LB Vince Williams the early front-runner for NFL headshot of the year. pic.twitter.com/VzKxTJwjpG

— Denny Burkholder (@DennyBurkholder) July 9, 2014


This feels like a bad sign for the Jaguars' season
Former @UCLAFootball standout & current @Jaguars tight end @MarcedesLewis89 on the @ESPYS red carpet #ESPYs pic.twitter.com/AKtWjnxvZn

— Nokia Theatre (@NokiaTheatre) July 16, 2014
I am no fashion maven, but this is not a good look on Jaguars tight end Marcedes Lewis. From the waist up, he's dressed up like a mid-level henchman in a 1990 Seagal movie. From the waist down, it looks like his tailor took a stroke mid-hem.
This is also happening: Matt Leinart v. Dean Cain
The biggest battle of the summer won't be found at a training camp. Cain -- sometime actor and the Bird to Dan Cortese's Magic in MTV Rock N' Jock lore -- told TMZ that hard-partying Johnny Manziel should be careful not to become the next Matt Leinart. Leinart vociferously returned fire.
Put 7 years in, pretty sure that's 7 more than 99% of the world. Some people should stick to their day job because they couldn't cut it!

— Matt Leinart (@MattLeinartQB) July 23, 2014
Stick to being D list!

— Matt Leinart (@MattLeinartQB) July 23, 2014
What happens when the easily movable object meets the extremely stoppable force?
Canadian officials have whistles, not hearts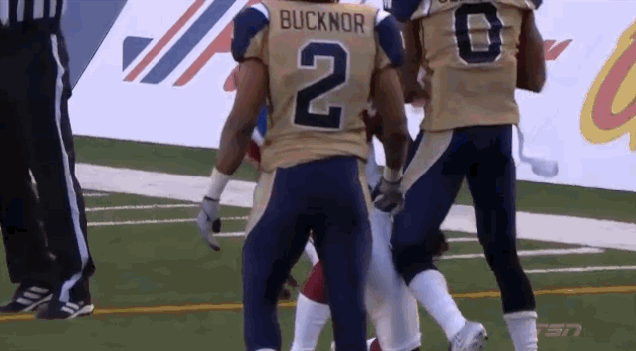 You'll make friends up there, Ochocinco. Just be patient. America misses you.
Quote of the Week
"It's such a positive happening, that first day. Imagine you're kind of in the comfort of the offseason, like being in the comfort of the womb. You got plenty to eat in there, it's warm, very cozy. And then you're born, into somewhat of the unknown. A lot of people looking at you, lot of faces looking at you, lot of excitement. It's light, it's bright, it's noisy, it's the crazy world of football. Again, it's a real happening. Wish everyone could experience it."
-- Jim Harbaugh on training camp
There's a 38 percent chance Jim Harbaugh is living alone and pantsless in the wilderness by 2016.
Villain of the Week: Art Modell Grave Urination Guy
Really, buddy? Like, really? Granted, it's an extremely popular opinion that Art Modell did Cleveland dirty, but this is no way to get even. In fact, we believe this should be the baseline topic when you meet with your court-appointed therapist.
And while we're here: How much of your disposable income went toward the Ravens jersey/catheter combo purchase? You are grim.
Read Option(al)
"Top 16 AFC position battles during training camp" -- Around The League team
"Top 16 NFC position battles during training camp" -- Around The League team
A CliffsNotes guide to training camp battles to watch this summer.
""Making The Leap" series" -- Around The League team
Our annual countdown of the 25 players who will take their game to the next level in 2014. Neckbeard® missed the cut again.
Until next time ...
The "Around The League Podcast" is now available on iTunes! Click here to listen and subscribe.