Welcome to the Around The League End Around, a weekly look back at the world of the NFL. Dan Hanzus serves as your guide.
It was a good week for ...
1. Cam Newton: Has the Cam Revolution begun? Playing with a hugely talented defense and a coach sailing fearlessly along Catawba River, the Panthers -- the Panthers, people -- suddenly look like a major power player in the NFL. Newton is at the center of it all; a ferocious athlete putting it all together in real time.
2. Jimmy Graham: Graham tied an NFL record for tight ends Thursday with his sixth 100-yard game of the season. It's not Thanksgiving yet. He's on pace for a 95/1,376/16 slash line. Something tells us Jimbo sneaks into NFL Network's "Top 100" this year.
3. Jason Garrett: Jerry Jones told reporters Garrett will be the Cowboys' coach in 2014 regardless how the team finishes this season. There's no way this could possibly change, right?
It was a bad week for ...
1. Geno Smith: When people are openly citing the eerie similarities between your rookie season and Mark Sanchez's, well, that's not great. Speaking of eerie similarities, the name of that Jersey Shore roller coaster fished out of the Atlantic after Hurricane Sandy? The Jet Star. Foreboding signs for the GenoCoaster.
2. Andre Ellington: Two things I can't watch: Crazy gruesome leg injuries and running backs getting dreads ripped from their head. At least he got 'em back.
3. Matt Ryan: Tell me the last time a team went from 13-3 to 3-13 with a legitimate franchise quarterback entrenched for all 16 weeks. It's all in play right now. Whether Julio Jones is there or not, 2013 is not a good look for Matty Ice.
What the What?
If an idiot runs on the field and no one is there to see it, did he really run?
Incognito stories won't go incognito
What exactly went down between Jonathan Martin and Richie Incognito remains unclear. An independent arbiter is in the process of figuring that out right now.
What I feel more comfortable about is the belief Incognito might be kind of a mess. This is fairly well established by now.
That hasn't stopped the stories from piling up, including a National Football Post report on Tuesday that "Incognito would sometimes dress in garb from the staff member's culture and then make profane jokes about that culture."
OK. So think of the biggest Idiot you knew in high school or college. The guy who was always drunk and rowdy and doing stupid things all the time. (if you were this person, don't worry, this is a no-judgment zone.) Now imagine if said Idiot became a national story for one of his antics and people started digging through his Idiot archives. The stories would never end, right?
That's Richie Incognito. He's the Idiot who did dumb things his whole life figuring it would all slip into the ether with time. He was mistaken.
Instagram of the week
Browns safety T.J. Ward handled this (fairly) well. The excessive lower body itching is a tad unusual, but he didn't a) faint b) scream like a 7-year-old girl or c) evacuate his bowels. I fear I'd do all three at once if I found vermin in my cubby.
Quote of the Week
"There were a bunch of screams. You could hear everyone screaming on the plane. It was pretty real. I screamed, because I was sitting right over (left) wing. My window was open and I saw the whole thing."
-- Browns offensive guard Jason Pinkston, describing the team's bumpy landing in Cleveland on Sunday night. You can safely assume "Lombo's Hollywood Nights" won't feature Flight any time soon.
* "Lombo's Hollywood Nights" is an entirely fictional team-building exercise I only want to exist.
Hero of the Week: Steve Smith
Steve Smith is the baddest man on the planet. "Ice up, son. Ice up!" is now the line to hiss at friends immediately following a victory in H-O-R-S-E, wiffle ball, Madden, bowling, cornhole, Trivial Pursuit, bake-offs, math league, you name it. Just an absolute hammer drop from which there is no recovery.
Villain of the Week: The Bills Fan Who Fell Off The Upper Deck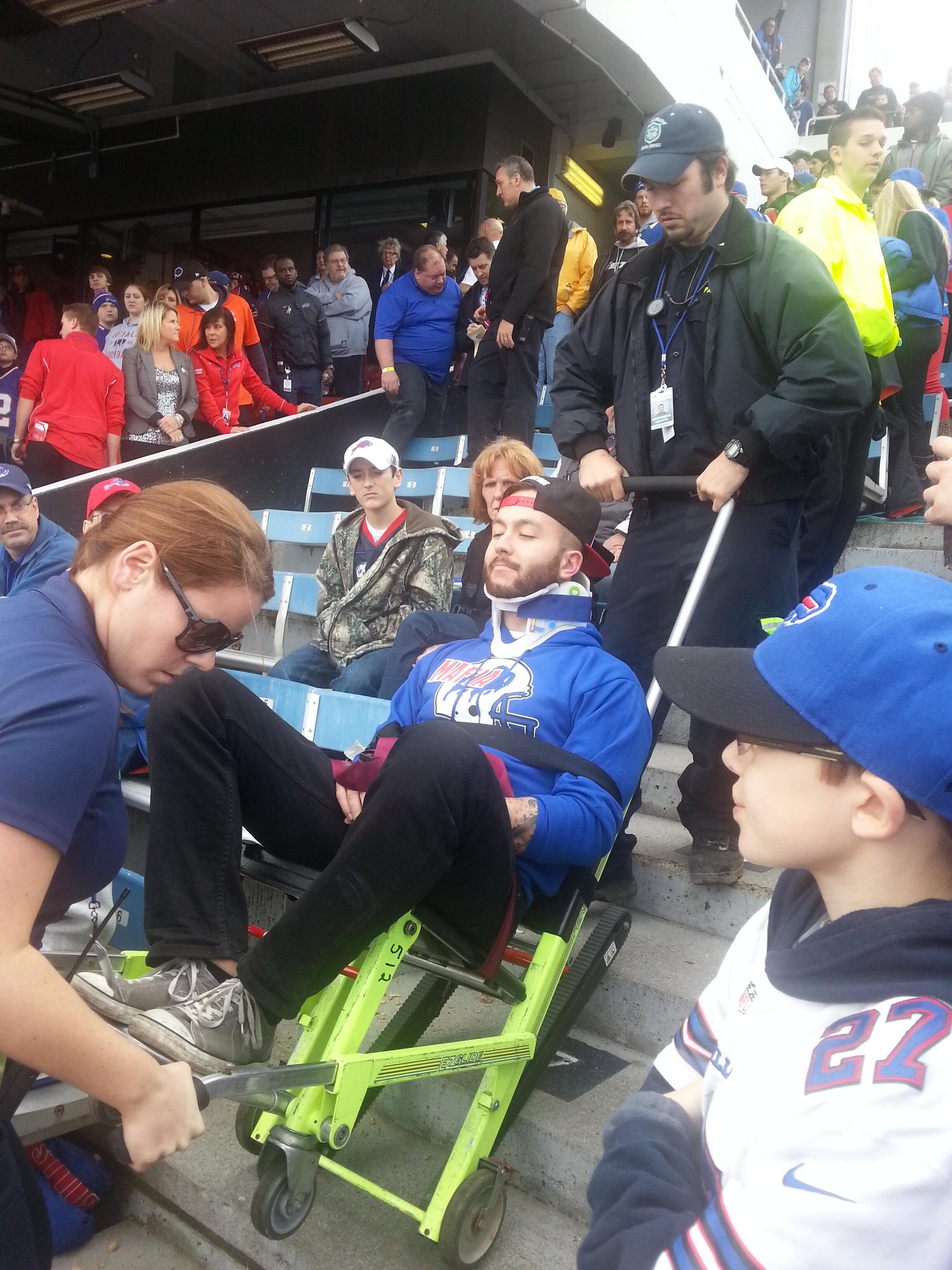 While he lacked a coherent plan, the fan who sprinted onto soggy Soldier Field was relatively harmless. The same cannot be said for Bills fan Rob Hopkins, who decided -- likely in a deeply inebriated state -- to slide down the safety rail of an upper deck. He fell and landed on top of fans in the section below, injuring one.
As a result of his actions, Wilson was banned from Ralph Wilson Stadium, fired from his job and could be facing criminal charges. We imagine a lawsuit (or two) could potentially surface along the way.
We all make mistakes, Rob. Yours just happened to be a spectacularly large one.
Read Option(al)
"The Free Safety" -- Charles P. Pierce, Grantland
A thoughtful look at Cardinals safety Tyrann Mathieu, who's "neither a legend nor a cautionary tale." The writing here is so good it makes my heart hurt.
"The Untold NFL History of that Day in Dallas" -- NFL.com
Ambitious interactive experience that looks back at the JFK assassination -- which occurred 50 years ago Friday -- through an NFL prism. Good stuff if you're fascinated by 11/22/63 like me and Sessler.
Until next time ...
We previewed every Week 12 game in the latest "Around the League Podcast."