You have to admire Vince Young's patience.
He passed on football purgatory, aka the CFL. He told anyone who would listen all he wanted was a backup job in the NFL. His stated goal from the beginning was to find stability and a team with an entrenched quarterback. Young wanted to work with someone he could learn from.
Now 30 and with six NFL seasons behind him, this was a statement that only could be made with a belly full of humble pie. And yet, that's how Young has positioned himself: a talented-but-flawed project in desperate need of guidance.
And so now here we are. As of Monday, Young is under contract with the Green Bay Packers, sitting in meetings with the best quarterback on the planet. Aaron Rodgers is about as good a mentor as Young could've asked for.
We have no idea if Young will stick with the Packers. For all we know, he's only been employed to serve as a doppelganger for Colin Kaepernick and Robert Griffin III, the mobile QBs whom Green Bay will see in the season's first two weeks.
But so what? Young officially is back on the grid, which is a victory in its own right. Before the flame out in Tennessee, before the Dream Team nightmare, before he became The Man Who Couldn't Beat Out Tyler Thigpen, Young was a player blessed with a mountain of natural talent.
Baggage has obscured those gifts over the past half-decade, rendering Young the NFL's equivalent of Lindsay Lohan. Let's see what he has left.
Here's what else happened on Monday ...
Depth chart madness
Try not to make too much of the initial depth charts released by teams. They are mandated by the league, and mean very little at this stage. Still, they at least provide some insight into how a team is thinking as the preseason opens. Chris Wesseling has a detailed breakdown of the biggest takeaways. You should read it.
Austin the Great(est)?
It's been a while since we've heard some hyperbolic praise of St. Louis Rams rookie Tavon Austin. We included some Monday because it came from an impeccable source.
"I watched all of his tape, I saw him in person at his pro day," NFL Network analyst Mike Mayock said on "Inside Training Camp Live." "He might be the most explosive player I've ever seen in my life, from a static start to full speed."
Mayock said Austin is "almost impossible" to cover in short spaces, adding that the ways in which he can be used is "only constrained by the imagination of your offensive coordinator."
Um, your move Brian Schottenheimer.
Reshad gets paid
Reshad Jones was ticked the Miami Dolphins didn't look in his direction during their offseason spending spree. Good things come to those who wait. General manager Jeff Ireland made good on his promise, locking up the talented safety with a four-year extension. Now all they need is a left tackle.
Trainer's room
» The Packers confirmed left tackle Bryan Bulaga is done for the year after tearing his ACL during Saturday's intra-squad scrimmage. It remains unclear if Marshall Newhouse or rookie David Bakhtiari will step into Bulaga's role as Aaron Rodgers' blind-side protector.
» San Francisco 49ers linebacker Patrick Willis will miss time after reportedly undergoing surgery to repair his broken right hand. He is expected back for the start of the regular season.
» Santonio Holmes reportedly is telling friends he doesn't expect to play in the New York Jets' first four games of the regular season.
» Cleveland Browns guard Shawn Lauvao was carted off the practice field with an apparent ankle injury. Browns coach Rob Chudzinski said the team will know more Tuesday.
» More problems at tight end for the Ravens, who lost Ed Dickson for a couple of weeks to a slightly torn hamstring.
And finally, apropos of nothing ...
... Hall of Famer Jonathan Ogden doing work in high school. (via @NFLonFOX)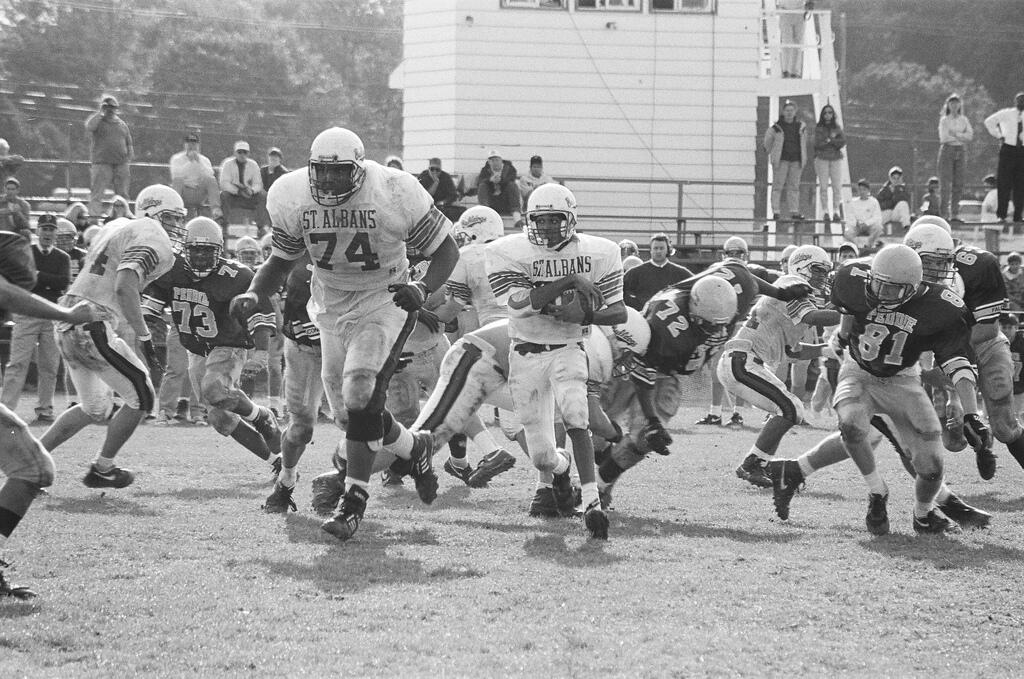 The Around The League Podcast is now available on iTunes! Click here to listen and subscribe.